By admin on Sep 2, 2012 in Uncategorized
Don't become so well-adjusted to your culture that you fit into it without even thinking. Instead, fix your attention on God. You'll be changed from the inside out. Readily recognize what he wants from you, and quickly respond to it. Unlike the culture around you, always dragging you down to its level of immaturity, God brings the best out of you, develops well-formed maturity in you. Don't burn out; keep yourselves fueled and aflame. Be alert servants of the Master, cheerfully expectant. Don't quit in hard times; pray all the harder. Help needy Christians; be inventive in hospitality. Romans 12:2; 11-13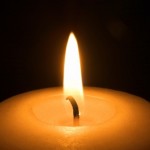 Every time you turn on the news today we hear gloom and doom.  The media reports that this big ship is sinking, and we all need a "savior" to come and rescue this country for better times. While I will exercise my right to vote this November, I also know that my hope is not in the President (whoever that may be) nor do I rely on the tax breaks, or promises the candidates make, to make my life abundantly blessed.
The above letter from Paul could have been written today. How many times have we allowed ourselves to watch the news and find ourselves fearing for our children, our future, our economy? How many times do we look at our bill books and ask ourselves "who is going to fix this"? Our actions speak that our trust is not in God.
I have heard people talk about corrupt leaders, and I have experienced injustice in my life. But when Joseph was exalted to second in command of the greatest nation on the earth, it was not a "Judeo-Christian" government, when Daniel was placed in wise counsel with the King, it was not a godly government. The early Christian church grew more under a non-Christian government than the church in America has in the last 50-100 years! Each of theses examples did begin with persecution and injustice, and even in the pit and in the Lion's den God was there.
So why do we fret and worry that our job security, retirement, or health care is going to be left up to politicians and government.  (Did you know when the Israelites were in the desert for 40 years, no one got sick, no one even had to work for food because it was there every morning, and no one outgrew their clothes or shoes!)
No matter what the next 4 years bring, or the leader chosen to lead this country, I know that my God is bigger than any of that. We must stand secure that God is all the things he promised he would be, including healer, provider, and righteous judge.
Don't burn out; keep yourselves fueled and aflame. Be alert servants of the Master, cheerfully expectant. Don't quit in hard times; pray all the harder!